The Australian Award for Excellence in Women's Leadership
The Awards for Excellence in Women's Leadership recognise the contribution of women at a National and State/Territory level to the advancement of gender equality across Australia. More specifically the awards recognise individual women that have, through their actions, improved the likelihood of other women within their field of endeavour having greater access to leadership equality. Created in 2014 and nominated by members of the WLA community, the underlying purpose of the awards is to increase visibility and momentum for the push for Australian women to receive equitable access to leadership positions across all industries and the broader community.
Carol Schwartz AM
Founding Chair, Women's Leadership Institute Australia
Ita Buttrose Ao OBE
Legendary media editor, businesswoman, best-selling author and 2013 Australian of the Year
The Hon. Bess Nungarrayi Price
Minister for Community Services, Statehood, Women's Policy, and Parks and Wildlife
Elizabeth Cosson AM CSC
Deputy Secretary of the Business Services Group, Department of Immigration and Border Protection
The Honourable Carmen Lawrence
Former Federal President of the Australian Labor Party
Lara Giddings
Former Premier of Tasmania
The Honourable Anna Bligh
Former Premier of Queensland
Christine Milne
Leader of the Australian Greens
Peta Credlin
Chief of Staff, Office of
the Prime Minister
Clare Martin
Freelance Journalist and
Former NT Chief Minister
and Labor Leader.
The Honourable Julie Bishop MP
Minister for Foreign Affairs in Australia's Federal Coalition Government.
ANN SHERRY AO
Executive Chairman, Carnival Australia
National Award Winner​
Sally Barnes
Director of National Parks, Parks Australia
Andrea Mason
CEO, Ngaanyatjarra, Pitjantjatjara and Yankunytjatjara Women's Council
Michelle Dixon
CEO and Partner, Maddocks
Julie McKay
Former Executive Director, Australian National Committee for UN Women
Susan Fahey
CEO and Principal Solicitor, Women's Legal Service Tasmania
ELIZABETH BRODERICK AO
Former Sex Discrimination Commissioner
National Award Winner​
THE Hon. DAME QUENTIN BRYCE AD CVO
Former Governor General of Australia
National Award Winner​
JULIA GILLARD
Former Prime Minister of Australia
National Award Winner​
Tanya Hosch
General Manager - Inclusion and Social Policy, AFL
Katarina Carroll
Commissioner Queensland Fire and Emergency Services
Kate McLoughlin
General Manager of Paralympic Performance, Australian Paralympic Committee
Lucy O'Flaherty
Chief Executive Officer, Glenview Community Service Inc
Leonie Noble
National President, Women's Industry Network Seafood Community
The Hon. Annastacia Palaszczuk MP
Premier of Queensland
Rabia Siddique
Lawyer, Humanitarian, Speaker and Author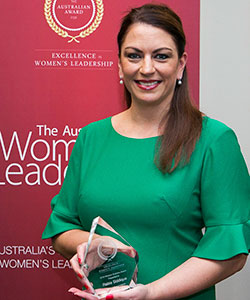 Patricia Ann Miller AO
Deputy of the Administrator of the Northern Territory
Jacqui McGill
Asset President, Olympic Dam, BHP Billiton
Terri irwin AM
Conservationist, Tourism
Ambassador and Owner of Australia Zoo.
Janine Allis
Businesswoman, Channel Ten's Shark Tank Mentor and Owner of Boost Juice
Natasha Stott Despoja AM
Australia's Ambassador for Women and Girls and Former Senator and Leader of the
Democrats.
Michelle Bridges
Author, Trainer, Entrepreneur and Champion of Change
Rosie Batty
Chief Executive Officer, The Luke Batty Foundation
Layne Beachley AO
7 Time World Surfing Champion and Founder of The Layne Beachley Aim for the Stars Foundation