An unrivalled development experience for aspiring and early career female leaders
lEADERSHIP lEVEL
Early Career
Delivered part-time over four months, Leading Edge is designed to enable the transition of aspiring and early career female managers into confident, capable and motivated leaders.
The program equips participants with the knowledge and behavioural insights required for successful leadership, embedding and functionalising new learnings as real world behaviour and action. Informed by fifteen years of experience in developing emerging female talent, the program focuses on tangible, relevant outcomes tailored to the needs of each participant.​
Encompassing a sophisticated blend of synchronous and asynchronous learning, Leading Edge immerses participants in a multilayered development journey designed to ensure maximum individual impact. Coordinated via WLA's state of the art learning management system, the program provides powerful and accessible individualised learning.
Workplace Application Project
"I would highly recommend the program to women in any industry. I feel grateful, humbled and incredibly gratified that I had this opportunity to be part of this journey."
Renee Tocco
Managing Director, Loanezi
Segmented into seven key themes, Leading Edge engages participants in a detailed exploration around the fundamentals of leadership and management and their individual drivers and derailers.
Effective Interpersonal Communication and Feedback​
Career and Professional Growth
Presence and Presentation Skills
Supporting Leadership Performance​
Emotional Intelligence and Conflict​
Elements of a Successful Team
Leading in Times of Change
Chelsea Barker
Workflow Manager at Atlas Equipment Finance
Chelsea Barker reviews WLA's Leading Edge program.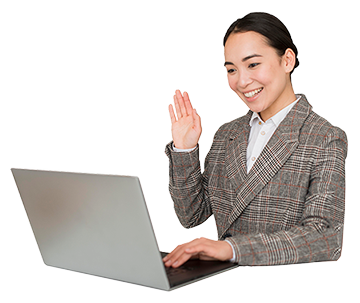 In conjunction with the various program elements, participants will undertake a Workplace Application Project. The purpose is to deepen and extend the programs learning outcomes and for the participant to plan, implement and monitor a project within their context and to collect evidence around their capability.
WORKPLACE APPLICATION PROJECT
The Workplace Application Project is also important in ensuring that learning outcomes are aligned to organisational objectives and that participants can be seen to be delivering something of lasting value to their organisation. The focus of the project will be decided by the participant in collaboration with their manager or workplace sponsor. Projects should focus on practical and achievable outcomes and provide opportunities for the participant to consolidate and demonstrate new skills. Project outcomes may include such things as improvements to operational processes, enhancements to team or culture or ways to improve performance and productivity. During the final workshop each participant will complete a short presentation on their Workplace Application Project and their key learnings.​
Interested parties should contact WLA's Admissions Department to obtain admission documents and information. Due to the exclusive nature of the program, admission is based on a rigorous written application process. If you would like to speak to a program liaison call us on 1300 735 904 or e-mail enrolments@wla.edu.au
The standard program admission fee is $2,990 (+GST). The admission fee covers all tuition, program related materials and access to the WLA online learning portal. The fee does not cover travel and accommodation costs associated with attendance at the face-to-face elements of the program.