Connecting, celebrating and developing women leaders across the K-12 education sector. A national platform for women at all levels to connect, share ideas and enhance their leadership skills.​​
The Australian Schools Women's Leadership Summit is a major national event for women at all levels of school leadership to connect, share ideas and develop their leadership skills. Created by Australia's leading authority on women's leadership, Women & Leadership Australia, the Summit has been developed in consultation with a broad range of stakeholders across the education industry.
The aim of the Summit is to contribute to the development of resolute and effective women leaders through skills development, expert advice and strategic industry based networking. The Summit will provide a unique opportunity to learn from an unparalleled group of women from teachers and principals to executive decision makers and inspirational women.
This significant annual event represents a key national development platform for women in K-12 schools to enhance their leadership knowledge and capacity. Drawing together the sector's most respected educators and thought leaders, the Summit aims to celebrate the role of women as well as equip participants with the skills, confidence and connections to consolidate their skills and plan for future career success.​​​
Supporting leadership equality and excellence
During the summit, participants will hear from a number of inspirational education sector speakers about their leadership/career journeys and the key elements that have contributed to their success. Armed with this valuable insight, participants will identify their own unique gifts and talents and begin to create their personal brand and message.​
Communication, presence and influence​
THE AUSTRALIAN​ Schools
Women's Leadership Summit​
Summit details
Venue: Rydges World Square, 389 Pitt Street, Sydney NSW 2000
Dates: Wednesday 18th April, 2018
Start/Finish: Attendee registration will commence at 08:30
Conference sessions will conclude at 17:00
Adjunct Associate Professor of Education, University of Canberra
Program Director, Women & Leadership Australia
Dr Janet Smith is an Adjunct Associate Professor of Education at the University of Canberra, where she has taught and researched in educational leadership and teacher education for the past 25 years. During her years at UC, Janet occupied a wide range of leadership positions, including Associate Dean Education, Deputy Head of School and Discipline Head. Janet's recent work at UC involved managing and teaching national and international professional learning courses, specialising in leadership, mentoring, coaching and social and emotional learning. Janet also organised and led UC's educational study tours to China, and taught a UC Masters of Education course at Hangzhou Normal University in China. Prior to her work at the university, Janet was a high school teacher and school leader for 16 years.
In addition to her work at the university, Janet has also worked extensively as a consultant, focusing on education, leadership, coaching, mentoring, spirituality, professional learning, teacher wellbeing and renewal.
Janet holds a PhD, Master of Education, BA, and Graduate Diploma of Secondary Education.
Australia is progressing in terms of female representation in workplace and community leadership roles, yet women continue to be underrepresented in high-level educational leadership. The vast majority of our teaching workforce is female, so why are most school principals male? What else can be done to highlight and change the current situation and move closer to parity, equity and equality?​
In the K-12 education sector, multiple stakeholders and channels mean effective communication is imperative and can have far reaching consequences. As leaders it is important we understand our own communication style and the impact of this style on others. It is also critical that we understand communication at an interpersonal, departmental, and organisational level so as to be able to communicate key organisational objectives effectively.​
Within the education sector, our ability to overcome challenges whilst remaining engaged and effective can and does have very real implications for providing high quality education to students. Personal and professional resilience is not only about strength through adversity but the ability to grow and adapt as a result of disruption. In this way we learn to move forward stronger than before.​
summit facilitator
and panel moderator
Dr Jillian Blackmore
Professor of Education, Deakin University​
The Hon. Sarah Mitchell MLC
NSW Minister for Early Childhood Education, Minister for Aboriginal Affairs and Assistant Minister for Education (invited)​
Annabelle Chauncy OAM
Founding Director, School for Life Foundation​
Ita Buttrose
AO OBE
Media trailblazer, businesswoman, best-selling author, and 2013 Australian of the Year
Rosa Storelli
Adjunct Professor, School of Education, La Trobe University​
Dorothy Hoddinott AO
Principal, Holroyd High School and Pro-Chancellor, University of Sydney​
Dr Linda O'Brien AM
Principal, Granville Boys High School​
Murat
Dizdar
Deputy Secretary, School Operations and Performance, NSW Department of Education​
Lila
Mularczyk OAM
Director, Secondary Education, NSW Department of Education​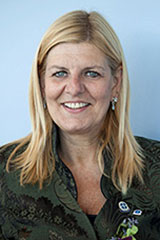 Susan
Pascoe AM
Independent Chair, Australian Principal Certification Advisory Board​, Principals Australia Institute
Laura
Jones
Commercial Director, Stuartholme School​
Lisa
Rodgers
CEO, Australian Institute for Teaching and Schools Leadership (AITSL)​
Dr Lee-Anne Perry AM
Executive Director, Queensland Catholic Education Commission​
Rydges World Square, Sydney​
Wednesday 18th April, 2018